A new program is sweeping the country with the goal of teaching secondary school students the importance of becoming familiar with advanced cardiac life support and ACLS training programs, and the response to this program has been outstanding. By raising awareness about these courses, the hope is to increase levels of altruism within these students, as well as to increase their overall health-related knowledge. Knowledge about general health issues, with regards to emergency situations in particular tend to be limited in developing countries, which is one of the reasons why this country is perfect for this type of program. The need for this type of course within Malaysia is probably why it has been so well received from the get go.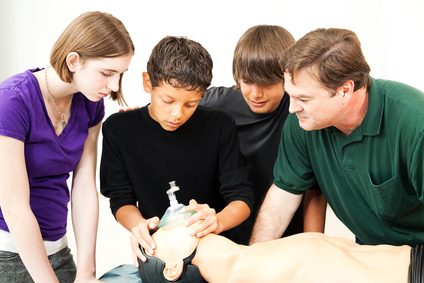 Introducing Students to Medicine
Getting students interested in a BLS certification course is not the only goal of this class; they are also aiming to get students interested in obtaining a tertiary education in medicine, as well as well as give them a holistic view of health and well being. It is not enough to simply teach people to react to emergency situations; it is often best to provide them with the information they need to prevent cardio episodes altogether. Often, these preventative measures include simple facts about nutrition, as well as emergency response information.
Focusing on Secondary School Pupils
By passing on emergency situation information, as well as informing the students of their option to obtain an ACLS certification, the organizers of this program are hoping that the students will grow up and pass down this information to future generations. A sustainable program is one that will keep going long after the organizers have left the schools, and these tools will not only provide short term benefits, but long lasting advantages too.
Programs such as these aim to have long lasting effects that will radiate outwards from the schools in which they are taught so that entire communities, regions and nations can contribute from them. Research has shown that by teaching these programs to secondary scholars, their retention of the information is much better than students in primary schools, although refresher courses are often required to ensure they remember most of the emergency responses over a longer period of time.
The promotion of BLS, ACLS and even PALS courses in schools is helping to provide scholars with the tools that they need to react in time so that they might just be able to save a life, or possibly many, and this makes it a very exciting program indeed.